ABOUT BRISTOL PRIVATE EQUITY CLUB
ABOUT BRISTOL PRIVATE EQUITY CLUB
This is not a Fund. The members are all like-minded individuals who have been carefully chosen for their broad range of skills and industry backgrounds. We all are (or were) involved in our own businesses and therefore understand the trials and tribulations of starting and growing a business. We want to help! The Club gives us an organised process to receive, review and discuss business plans and then share the risk (and reward) of investing. Each member invests in each business on a deal by deal basis, not all members will invest in each proposal, this clearly differentiates the Club from a VCT or Private Equity Fund.
Above all it is formed as a Club because we hope it will be fun! We are serious about our investing but the Club will have a social element too.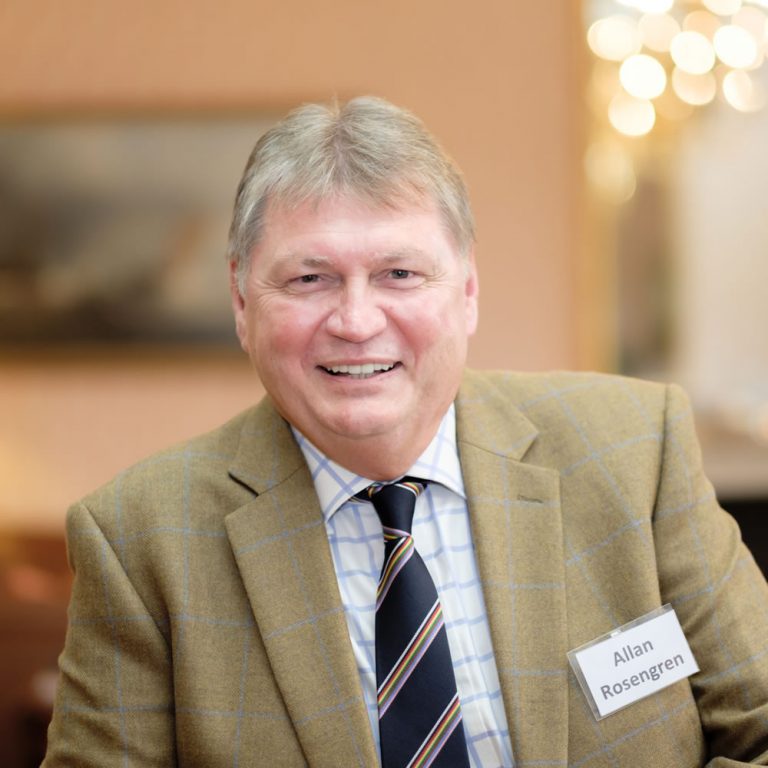 Allan Rosengren
Allan has operated at a senior level in financial services for over 30 years. He has a wealth of experience as an entrepreneur, innovator and investor in many businesses in the financial services sector, investment platforms and networks, consumer finance, technology, food & beverage,  restaurants, aviation, student lets and large scale property developments. 
Since stepping away from full time corporate life he has developed a wider range of business interests and additional skill sets, including as Chairman, NED, investor and trusted mentor to CEOs and business owners.
Having been in business since his early 20's, he has served as Chairman or Chief Executive of Falcon Group Plc, Sumus Plc, Lighthouse Group Plc and many other subsidiary and associated companies. More recently he has served as Chairman of Money Wise IFA and Chairman of the Clifton Club. 
As an experienced investor and Chairman of BPEC he thrives on meeting people with interesting investment proposals and has introduced several businesses to which have gone on to raise funds through BPEC. 
Subject to the specific circumstances and required approach, Allan is a hands on investor, focused on the high level strategy and tactics of the businesses BPEC invests in, highly supportive of competent quality management and driven to ensure the achievement of agreed objectives.
Originally from Sweden, Allan has lived in Bristol since 1978. He is married with two sons. 
Jerry Barnes
Jerry has worked in the world of Private Clients for almost 35 years mainly providing wealth protection and succession planning solutions for wealthy UK families. This has included many aristocratic families but also first and 2nd generation entrepreneurs. Jerry has found the wealth of experience gained from 'old money' has huge benefit in application for 'new wealth'. He has dealt with most financial structures and deals regularly with overseas issues. Jerry sits on the advisory boards as a non-executive of several major UK families and acts as personal trustee for their family trusts.
Jerry set up his own business, BPOS in 2014, a multi-family office providing strategic advice and administrative services, deliverable anywhere in the UK from its bases in Bristol and London.
Jerry has very close relationships with most private banks, land agents and major law firms. Jerry headed up Smith & Williamson's Private Client Tax Department in Bristol and was the main contact for their Family Office service in South West. Before joining Smith & Williamson, he was a partner in London for Saffery Champness for 28 years, where he eventually headed up their National Landed Estates Group. In 1996, Jerry relocated to Bristol to open an office, building it to a team of 31 people.
A proud Cornishman, Jerry is a member of the MCC and a keen follower of country pursuits. He is a past Chairman of the Bristol & North Somerset Committee of the Game and Wildlife Conservation Trust. Jerry is currently the Chairman of the Clifton Club and stays at the Farmer's Club in London very frequently.
Julian Telling
Julian is a native Bristolian and has spent all his working career in the city. In 1983, along with fellow director Allan Rosengren, he established Falcon Group plc which became a national financial services company. In 2005 the company was successfully listed on AiM and in 2008 it merged with another national IFA. Julian decided to step down to pursue other interests. Over the years Allan and Julian invested in various financial services companies which have since been sold for significant profits.
Since leaving his "proper job" Julian has enjoyed a portfolio career holding non-exec positions and chairing a variety of AiM listed businesses. He currently Chairs privately owned telecoms business Pure Comms and also is a non-exec of Bath based listed business 1pm Plc.
As well as directorships Julian has interests in both commercial and residential property development along with such businesses as plumbing and aviation. His passion has always been in aviation and Julian has held a professional pilots license for over 25 years, he regularly flies corporate jets for Centreline AV Ltd and is a Civil Aviation Authority examiner. This bit of his portfolio regularly takes him on trips all around Europe.
Outside "work" Julian is involved in a variety of pro bono organisations in Bristol including the Bristol community foundation Quartet.
Married with two adult children he and his wife enjoy time in Cornwall where they spend a great deal of the summer.
Mark Mason
Mark Mason is a serial entrepreneur. His first business was an advertising agency called Anderson & Lembke Bristol which he set up in partnership with a London agency. After 5 successful years he left in 1997 to set up Mason Zimbler, a technology focused digital marketing agency. The business quickly grew to 40 people but then was forced to cut back due to the perfect storm that was 9/11, Y2K and the dot com crash. After 2 years of treading water the company began to grow again and in 2007 Mark sold the business to the US company, Harte Hanks.
Following that Mark set up Mubaloo, an enterprise app development company. Employing 60 people over 7 years, it was the most awarded agency in the UK. Mark sold the business in January 2016 to IPG Mediabrands. 
Mark recently resigned as Executive Chairman of the hugely successful R&D Tax Credit Consultancy ForrestBrown which was sold to the Alliant Group in the US in March 2018.
Mark is also a non-exec director of 4 businesses including Business West and is a Governor of the University of the West of England. In 2015 Mark was awarded an Honorary Doctorate in Technology and an MBE in 2017 for services to the Digital Economy. In his spare time he flies hot air balloons and organises walking weekends.
Denis Mullan
Denis qualified as a Chartered Accountant in 1978 and became a Corporate Finance partner in Ernst Young in 1989. He was with the firm for 26 years, in London, Newcastle upon Tyne and, finally, Bristol, before leaving in December 2001. He covered a very wide spread of businesses, and was involved in all stages of business development, from start-ups through MBOs, acquisitions, mergers, and Stock Exchange flotations. Over 26 years, clients ranged from family businesses and large private companies to public companies including Hanson Trust, British Airways and Northern Electric.
In 2002 Denis set up a children's animation business with two industry friends and they successfully produced one new series. Unfortunately, given the weak investing appetite after the TMT bubble burst, they were unable to obtain sufficient funding for further series, and international and franchising developments.
In July 2003, Denis was headhunted by the Chairman of Zytronic plc, an AIM listed electronics group, manufacturing in the North East. It was at an early stage of developing a new patented touch sensor technology, for larger screen external use. By April 2014, when he retired from the business, it had three factories, nearly 200 employees, annual revenue of £19m, and PBT was over £3m.
Since he retired, Denis has largely focused on charitable work, been Chairman of Bristol Real Tennis Club and been involved with the development of BPEC.
Charles Cook
Charles is the managing partner and founder of Cook Corporate Solicitors.
In 2018 he successfully exited the general solicitors practice which he founded in 2008, Cook & Co, to enable him to focus on his corporate legal work and other business interests.
Charles is a prominent corporate lawyer specialising in mergers, acquisitions and private equity transactions. He handles a substantial client portfolio and has been involved in a number of high profile transactions in Bristol including the sale of Williams Automobiles, Clist & Rattle, Bristol Flying Centre and the purchase of City Engineering.
Charles has very strong links in both the investor and corporate community and has a particular reputation as one of the leading "deal makers" in the region. Charles has extensive experience of working with private companies, public companies, financial institutions, partnerships, private individuals and entrepreneurs.
Charles sat on the board of Gloucestershire County Cricket Club for 3 years where he was heavily involved in, amongst other things, the £6m redevelopment of the Bristol County Ground, the successful bid for the cricket world cup in 2019, England v India 2014 ODI, England v Sri Lanka 2016 ODI and the Madness concert in 2015. He is a board director of the Clifton Club, the Ascot Group, Company Secretary of the online retailer Jammy Lizard, is a keen shot and has been awarded the freedom of the City of London as well as being nominated for the "42 under 42" by Insider magazine and a top 40 "trailblazer" by the Business Leader Magazine.
Charles is an original co-founder of the Bristol Private Equity Club and he is the Company Secretary. He is an active investor with a portfolio of personal investments and as a proud Bristolian is very keen to see Bristol business and innovation supported and flourish.
Heather Frankham
In the space of two decades Heather went from PE teacher to Executive Chairman of her own business. Heather founded Lifetime Training in 1995 and built the company to become the UK's number one apprenticeship and skills training provider. It is a journey that has taken her through every stage in the lifecycle of a business from a sole trader start up, to scale up, to a market leading business with over 1000 staff, to selling and finally exiting in 2016.
Heather is now actively developing and investing in a number of businesses including:
– Origin Workspace – a collaborative space where businesses can start and grow in a supportive environment based at 40 Berkeley Square;
– Bud Systems – complete solution for the management and successful delivery of apprenticeships, including learning, funding and management;
– Paragon Skills – a Private Equity backed Apprenticeship Training Business that Heather chairs supporting the executive team in the creation of effective strategy, the delivery of goals and objectives and to help the business achieve the next phase in its growth plan.
Heather also invests money in charities that help young people. She set up The Frankham Family Charitable Trust which was established with some of the proceeds of the sale of Lifetime Training Group. Heather also holds voluntary positions with The Princes Trust and The Royal Foundation of The Duke and Duchess of Cambridge & The Duke and Duchess of Sussex.
The aim is to invest in 3 or 4 'deals' each year with 3 or 4 Panel Events. It is envisaged that the Private Equity Capital raised by the Club will be circa £1m pa. We would hope this will make a material difference to local businesses and their ability to compete and grow at a National Scale.
Market place for private equity in Bristol
We have discussed this with many experienced people and we seem to have found a space for this Club. The universities have produced great incubators eg; Set Squared and there are Angel networks. These are doing a great job at the Start Up stage. There are also the VC Funds and Bristol is very much on the map for visiting Fund Managers. However, they require £5M plus Enterprise Value to justify their expensive investment process.
The Club seems to fit nicely into the Middle ground! Indeed, we are speaking to all of the above and have met with a great deal of empathy and support ie; we can help the Angels to exit and the VC Funds might assist the Club with its exit or co-invest on a future round of funding.
There is room for all!
Duis aute irure dolor in reprehenderit in voluptate velit esse cillum dolore eu fugiat nulla pariatur excepteur sint occaecat.
<![CDATA[Regional Angel Investment Accelerator delivers private investment and grant funding to Bath-based start-up]]>
<![CDATA[Members of Bristol Private Equity Club (BPEC) celebrated five years of supporting business growth in the city with a party overlooking the Clifton Suspension Bridge.]]>
<![CDATA[Members of Bristol Private Equity Club are celebrating after a videogame developer and publisher backed in its early days has successfully sold for a minimum of £6 million.]]>
The Club works closely with local Universities, incubators and business leaders to seek out interesting opportunities that will appeal to our diverse group of members. Get in touch today.